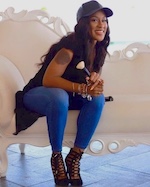 Radiant Jones is a Florida-based professional Makeup Artist and licensed Esthetician. She attended North Florida Institute of Cosmetology where she earned a license in Esthetics in 2011.
Radiant's love for art, beauty, photography, a keen eye for detail and precision has afforded her a decade long career as a Visual Artist which is a prime asset in her work as a professional Makeup Artist. Known for her artistic ability, Radiant truly delights in versatility, which has allowed her to work across all genres of media including bridal, television/film, theater, editorial and runway. With an innate love and passion for art, skin and all things beauty, Radiant is inspired by the experience of making things and people beautiful. She believes beauty isn't just about appearances but the inner beauty that shines from within.
Radiant currently resides in Tallahassee, FL. She is a wife and mother of 3. She is a Visual Artist and Content Creator. Professionally, she is a licensed Esthetician, Beauty Educator and traveling professional Makeup Artist. She is also a Minister of the Gospel and gives all glory to her Lord and Savior, Jesus Christ for blessing her with the ability to create.